Welcome To Our Jamb Utme Tutorial Page.
Please If You Are Busy Kindly, Concentrate On What You Are Doing, Later You Visit This Page, You Can Still Visit Here Anytime As Long As You Have The Password. We Want You To Calm Down While Reading Things Written Here.
We want to thank each and everyone of you who subscribed here for jamb Utme runs, it shows that you believed in us and you believe that through our help you will attain your desired jamb Utme score.
We know how difficult everything is now, for the fact you were able to use your hard earned money to subscribe here for your jamb Utme runs we assure you nothing but the best & we promise to ensure all our jamb subscribers get admission this year by also helping you during your Post Utme.
We know most of you have written jamb twice but yet no admission, I promise you that such will be over this year and I advise you after your jamb Utme, you should start gathering money for your school acceptance fee, school fees, and other fees because most of my jamb subscribers who were given admission last year still weren't able to go because at the process they lack funds they will use to pay all the fees & I don't want such to happen this year to any of my jamb Utme subscribers.
For this year jamb, I don't want you to panic and I want you to ensure you are understanding everything written here.
We have been into CBT runs for a long time so this year wouldn't be different.
Before I proceed, I will like to introduce myself to you people. My name is Mr Frank, I am a lecturer in one of the federal university in south east, I am one of the staff in solutionfans.com, I also have a private lesson center where I and the teachers I employed teach and prepare students that want to write waec and jamb.
There are some things I will like to discuss here because I don't want what happened to a candidate in 2019 to repeat itself.
Please i know you have paid for your jamb runs and you are now expecting to have 275, 280, 290, 301 as your jamb utme score, you will definitely get those scores but please paying for your jamb runs shouldn't still prevent you from being serious with your studies. I normally tell my students in my lesson center that they should be serious with all this we are teaching them because we are preparing them well so that when they enter school they wouldn't be lagging behind in academics. Let's for instance, you chose biochemistry as your desired course and in jamb utme you scored 296 and finally got your admission and you are the one that scored highest in jamb utme among others in the same department with you in that same institution and as the semester goes on, you later become among the people having poor performance in their academics. How does that sound?, that's why its more important for you to be very serious with your studies now you have subscribed for your jamb utme so that when you enter school you will be performing more better among those in the same department with you.
In the university I'm teaching, there was one student that wrote jamb in 2019, his course was Med Lab. and he scored 306 in his jamb utme and was he was the student that scored highest among others in the same department with him. After the first semester exam, as the results were out, his GP was 2.3. Someone that scored 306 in jamb having a GP of 2.3 after his year one first semester exam while others in the same department with him that scored below him in jamb were having 3.9, 4.0, 4.5, 3.4, 4.7 as their first semester year one G.P. So the Head of the Department(H.O.D) of the Med Lab called him and asked him why his G.P was the lowest among others upon he was the one that have the highest score in jamb utme among others. There was nothing he know he can say and after examining him they discovered he didn't actually wrote the jamb utme with his own capacity, so they stopped him from doing Med. lab and gave him a lower course to do.
So the reason for this story is for everyone of you to be serious with your studies especially those offering professional courses.
Let me give you some JAMB exam preparation tips because I guess you might be asking yourself, how can I prepare for the JAMB exam within the shortest possible time?
Preparing for JAMB within few weeks involves some tweaks and tricks. However, at this point, it depends on how smart and serious you are.
Here are a few tips to help you;
1. Learn to relax your mind: always learn to free yourself from fear. Why am I saying this? Some students always panic whenever they remember they have a JAMB exam.
There is no need for you to worry much about that. Relax your mind, have confidence in yourself because your panic means that you are not sure of your ability to pass the exam. I assured you that you can achieve more when your mind is relaxed than when you are in a state of panic!.
2. Time management: To help sort out your time management, set up a timetable for your study. Write down how many subjects that you will be writing. Then organize your study accordingly.
You may want to give some subjects especially mathematics, physics, chemistry (although that depends on how good you are with any available subjects) more study time than others, so find a balance that you feel comfortable with. Also, Use JAMB syllabus to narrow your reading so you won't end up reading irrelevant topics.
3. Getting rid of distractions: Are your mobile phones, social media chatting or computer games out of sight? Be sure to perfectly try and get rid of all distractions, and make sure you feel as comfortable and able to focus as possible during your reading sessions.
Some of us need everything completely tidy and organized in order to concentrate, while others thrive in a more cluttered environment.
Think about what works for you and create an ideal study environment. This may mean almost complete silence, for others may be playing background music such as classical hits is what they need.
4. Study JAMB past questions: JAMB keeps recycling questions every year. Take advantage of this and study the Past Questions more frequently. JAMB may not repeat the questions word for word. This is the more reason you should revise past questions diligently that way it is easier for you to recognize any question you may have come across while studying even if it is presented in another way.
Try to remove in your mind that we will help you score high in your jamb utme and make use of this tips so you can prepare yourself very well for your jamb utme so that when you enter school you can be performing very well among your sets and will be able to prove that you are the one that got the high score we will help you got in your jamb utme.
=================================
We noticed that some candidates got our password and link for this tutorial that we sent to them through sms while some didn't receive the message upon we sent it to everyone.
Yes, this normally happen and that's one of the reasons for this tutorial.
We sent the link and password for this tutorial through our database server and those who received the message, the phone numbers they submitted here are not on DND(Do Not Disturb) and others that didn't received, it shows that their phone numbers are on DND.
How To Deactivate Do-Not-Disturb
How to deactivate Do-Not-Disturb (DND), On MTN, Glo, 9mobile And Airtel, is the main question being asked by the affected subscribers.
The solution to Do-Not-Disturb (DND) which blocks GSM phone number from receiving bulk SMS messages is specified here.
Simply follow the information as provided below by GSM operators in Nigeria.
To deactivate DND on any 9mobile (Etisalat) number, Text START to 2442.
To deactivate DND on any MTN number, Text ALLOW to 2442.
To deactivate DND on any Glo number, Text CANCEL to 2442.
To deactivate DND on any Airtel number, Text ALLOW to 2442.
DND deactivation takes 24 hours to complete the process. In other words, you will start receiving bulk SMS messages
Please, note that NCC compelled the telecommunication operators (MTN Nigeria, Glo Nigeria, Airtel Nigeria and 9mobile Nigeria) to implement DND. Therefore, all the GSM operators in Nigeria imposed DND without the subscribers' consent.
However, the good news is that you can still confirm by sending STATUS to 2442 to know if your number is on DND or not.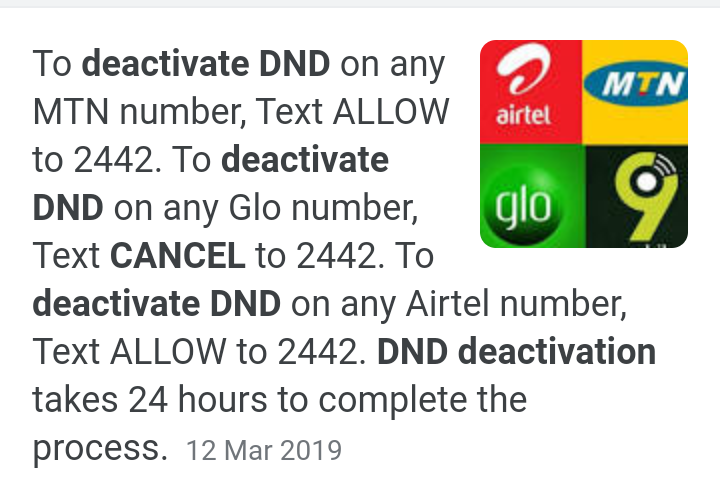 A part from that, during exam we use to upgrade our database sms server to the highest package so that even if your number is on DND, you will still be able to get our message but we still advise you to follow the procedures above to deactivate DND from your line.
We will still organize another major tutorial in the month exam will organize and by then we have upgraded our server to highest one and the next month tutorial is to confirm that all our subscribers are receiving our messages so that nothing will prevent them from receiving their jamb utme answers 6-5hrs before exam, even though it will still be uploaded in their system.
=================================
Please those of you that subscribed for jamb utme runs before jamb utme registration commence shouldn't bother sending any of their jamb details to us now. We will send a text on when we need more of your jamb details and that will be after your jamb reprinting so that by then everyone must have known his/her exam center, exam date and time.
For now don't send any of your jamb details for us until we request for that.
=================================
Please invite more of your friends here to subscribe for their jamb utme runs and advise them to pay earlier because the earlier the better, you are also free to give the password and link of this tutorial to those your friends you want to invite for them to read and understand things better.
=================================
Bonanza For All Those That Subscribed For Jamb That Will Write Upcoming Neco.
Instead of paying N6,000 for your neco runs, pay only N4,500 and we will assist you to have parallel A's and B's by sending neco questions and answers for all your nine subjects + practical.
Bonanza end on 31st of this month.
Pay on time in order to benefit in this bonanza.
Note: The bonanza is only for our jamb runs subscribers that will write neco
=================================
The Tutorial Is Completed
Another tutorial will now hold next month but if anything comes up before then we will let you know.
=================================